I was well excited about this game, notwithstanding the current poor performances and terrible league standing of la Viola, since it remains a big match no matter what. Last year's (ultimately irrelevant) race for the final Champions' League spot added extra spice to our last meeting, and the relative geographic proximity of Firenze means that both games each season usually have a good away crowd - maybe a couple of thousand, as against, say Chievo, who brought quite literally three men and their dog. This year the Viola fans are numerous and well-organised, lots of flags and 'ben colorati' as the commentators here rather untranslateably say. Colourful I suppose, but that suggests a multitude of colours as opposed to 'all wearing purple' which is what it means in this case. There was a large and as usual rather heavy-handed police presence on Sunday night, possibly in anticipation of trouble, since at the away game last spring there had been a couple of incidents. Frankly this kind of stewarding greatly increases the chances of trouble but that's another story for another time. It's possible at least to say that there's more rivalry with Fiorentina than with a lot of other clubs if one can judge purely by the numbers of
cori contro
.
Mancini made a last minute recovery to start, with Vucinic and Montella on the bench, but we had broadly our first-choice team, whilst Fiorentina were without Toni. Both teams started fairly brightly but we looked disorganised at the back and promptly conceded from a corner after 15 minutes to a well-taken goal from Ujfalusi. The travelling fans went beserk - they're the first away fans I've ever been able to properly hear singing from within the Sud - and there was a bit of scrapping with the stewards as they endeavour to through things at the Nord and the Nord endeavours to respond. Handbags, really. Ujfalusi and (surprisingly) Mutu both played quite well, and the first half continued a bit scrappily, with the giallorossi looking a bit uncertain until a complete wondergoal from De Rossi brought us level towards the end of the half.
After half-time Roma came out looking like a completely new team, playing much faster and more incisive football especially down the wings with both Mancini and Taddei looking excellent; it took Taddei all of 4 minutes to put us ahead. Some nice interplay between Mancini and Totti as well, who looked better than he has done in recent games - though still not his optimum self, a by now familiar refrain, alas. Mancini, clearly knackered, was replaced by Vucinic who was pretty lively and had some good chances though still looks a bit inexperienced (that's ok, he's still young). We looked almost unrecognisable from the first half, and a handful of other chances were missed or fluffed, including a Totti free-kick off the post. Couple of Fiorentina substitutions which didn't really seem to change much. Chants of 'Prandelli come Cassano' and after Taddei's second, a nice tidy finish off a Panucci cross, of 'ma che siete venuti a fa?' which we've not looked convincing enough to sing much this season. I twisted my ankle slightly in the celebrations for the third goal, tanto per cambiare. Good times.
Other thoughts: Tonetto I like, he can get forward but without forgetting he's a defender, he's a good balance for Panucci on the other side. Cassetti is yet to convince, he doesn't strike me as much better than anyone we had already. Montella still not fully fit, clearly, and I do think we need him. BUT overall the balance in the team - at least when we can put out a first-choice side - is pretty good, and the signs are encouraging. So we're on 20 points, 4 behiond Inter and Palermo, which is respectable.
It's about a month til the first derby of the season and thoughts are beginning to turn that way, as evinced in a handful of antilazio songs once we're winning comfortably. A lively and enthusiastic
tifo
with plenty of smoke bombs and torches and a variety of striscioni: Fiorentino-Juventino is a favourite (sorry, Ginkers) and some anti- Cassano stuff, along with 'Il tifoso romanista dei tifosi è sempre er più.' Which you can dimly discern here.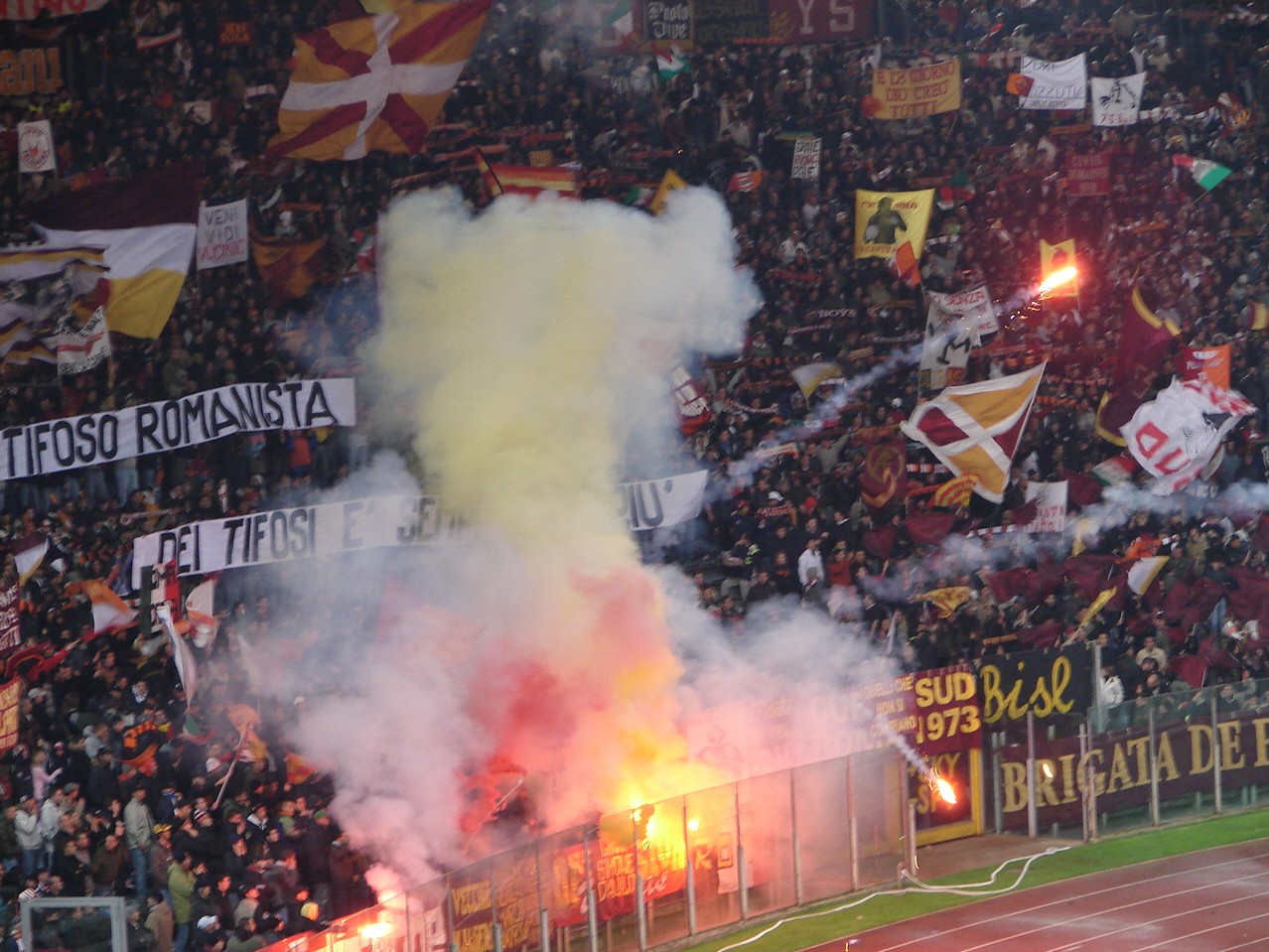 So despite the cold (in which the visitors are made to hang around til nearly midnight, poor buggers) it's an absolutely fantastic night and puts me in a splendid mood for the week ahead. I remember a few years ago sitting on the curva Nord watching the Sud celebrating and thinking that right there is where I want to be. I love it.
Now... can I afford to go to Milan on Saturday, I wonder?